A perfect warm-up for what was to come, The Budos Band took to the stage with well-synchronised, driving compositions and sharp melodies, matching the flawless studio sound of their two releases on Daptone Records. Definitely worth a headline slot in future, it surely will not be long before this materialises.
The 11-man force that is Antibalas didn't fail to make expected impact, playing a two-hour marathon set which built in momentum. Layers of polyrhythmic percussion were augmented by dual guitars and a horn section which never missed a trick. The band radiated a powerful, vigorous energy to get the whole place moving.
Hailing from Brooklyn, New York, this eclectic collective has assimilated roots knowledge of Afrobeat and infused rich flavours of funk, jazz, Latin and folk into a unique musical recipe. There is also a distinct political edge to many tunes, such as the bitterly rebellious 'Indictment', furiously orated by a rabble-rousing saxophonist on a mission to stir up the primarily London-yuppy crowd.
Even in calmer moments, the standard formula produced hypnotic, trance-inducing grooves ideal for the array of talented soloists to let rip on. Famed for random appearances at street parties all over NYC, Antibalas often play three or four hours. It wouldn't have got boring.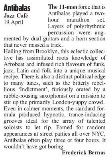 < Published (in part) in London Tourdates magazine, 15/5/08.