Monty Alexander
Union Chapel
June 27
Published: 1/7/11
Now into the 50th year of his performing career, Monty Alexander is well known as a charismatic showman who draws great pleasure from mixing, twisting and bending different genres into an accessible musical package – and stamping his own unique identity onto whatever style he desires.
At Union Chapel his chosen format was the simple piano trio, witnessed by a strong crowd on the opening night of BluesFest 2011. They were not disappointed. Starting up with Blue Mitchell's calypso 'Fungi Mama,' the group radiated a positive vibe that matched Alexander's cheerful countenance as he strolled onto the stage.
He took the opportunity to showcase several tunes from his latest album, Uplift – a collection of live recordings that topped American jazz radio charts for a couple of weeks in June.
Familiar melodies such as 'Come Fly With Me' and 'Django' were punctuated by Alexander originals – none more impressive than 'Renewal,' another cut from the new release. Its dark, brooding overture blossomed into a bustling groove before bassist Hassan Shakur produced one of the evening's most remarkable solos, effortlessly juxtaposing his own ideas with memorable lines from R&B hits and even the Pink Panther.
Alexander reinforced his credentials as a mischievous musical adventurer with 'No Woman, No Cry'. Swashbuckling runs were replaced by a delicate touch that did full justice to Bob Marley's classic anthem, a fitting tribute to both the great songwriter and the rich Jamaican culture in which Alexander grew up.
As a consummate entertainer with genuine international pedigree, he is a man who never forgets his roots, fusing the creative essence of his native island with the jazz legacy of past collaborators like Gillespie, Rollins and Sinatra. Monty Alexander really is a musician who has it all – and he was fully appreciated with a rapturous standing ovation.

Roy Hargrove
Union Chapel
June 28
Published: 2/7/11
Another of the jazzier offerings at London's inaugural BluesFest saw trumpeter Roy Hargrove play Union Chapel, an acoustic setting perfectly suited to the sounds of his current touring ensemble.
Hargrove burst onto the scene in the late '80s after being first spotted at high school by Wynton Marsalis. A 1998 Grammy for the Latin-flavoured Habana album established his name as a major brand in the jazz world. Since then, Hargrove has dabbled with edgier funk and soul aesthetics in his RH Factor project, as well as assembling a distinguished big band and working extensively in smaller groups.
With this acoustic quintet, it seems he has found a fertile middle ground on which to flex his refined compositional acumen, brimming in diverse influences. As the musicians on stage raced through their set with no break for repartee, a strong element of patience was also present in their unfolding dialogue.
Hargrove and saxophonist Justin Robinson regularly took a back seat, disappearing behind the bandstand while the improvisational baton was passed around. When the two horns were involved, melodic hooks rang short and sharp – it was their solos which told the real stories. Robinson is a subtle, eloquent player who refrains from showy pyrotechnics and, while Hargrove's dazzling chops were in full flow for the livelier numbers, his warm tone on the flugel was the perfect voice to croon on a smooth ballad.
The rhythm section was perhaps even more impressive, as Ameen Saleem (bass) and Montez Coleman (drums) locked down a selection of tricky time signatures. And on straight 4/4 grooves or standard swing, their backing – aided by pianist Sullivan Fortner – was often sparse but effective, augmented by a great deal of textural variety during solos.
As a seasoned player who has been around for some time now, it looks like Hargrove is really settling into himself. At the encore, as the trumpeter marched between pews exchanging fiery licks with Robinson's alto in a sermonising lap of honour, it was thrilling to conclude that this highly versatile bandleader is at the peak of his creative powers.


Booker T. Jones
Under the Bridge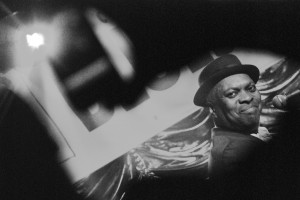 June 30
Published: 2/7/11
Roman Abramovich's new venue is a slightly bizarre cross between Ronnie Scott's and the kind of nightclub where you might expect to meet the more unruly Chelsea stars on a rumbustious night out. Nevertheless, as it is an intimate space with accomplished sound engineers, the voluble Booker T. Jones – a veteran hard worker of the US music scene – looked right at home in his pork pie hat on the gaudily glittering stage.
Booker's biography reads like a Who's Who of R&B, soul and rock – it's easier to count the big names he hasn't worked with. While his groundbreaking MGs group produced classic cuts such as 'Green Onions' and 'Soul Limbo,' they also backed up a whole host of cult figures on the Stax Records roster throughout the '60s and '70s.
Unsurprisingly, Thursday's concert featured a rich vein of feelgood hits – cherished by a knowledgeable crowd – that was effectively combined with newer material from the 2011 album Road To Memphis, recorded in collaboration with The Roots, Philadelphia's live hip-hop supergroup.
Bombastic organ grooves were Booker's order of the day, characterised by his trademark minimal style and metronomic beats from drummer Darian Gray, who doubled up as MC on a couple of tunes. Highlights from the recent release included pulsating instrumentals like 'Everything is Everything' and 'Harlem House,' while the shameless spaghetti western hero music of 'Hangin High' was an unexpected treat.
Booker himself even exited the picture at one point, leaving guitarist Vernon Black completely alone to belt out an enjoyable cover of Hendrix's 'Little Wing'.
The sizeable old school revival crew was not left wanting, however, as Booker's band rounded off nearly two hours of music by returning to its prodigious historical repertoire: 'Sitting on the Dock of the Bay,' 'Ain't No Sunshine' and 'Take Me to the River' were reeled off in quick succession to leave the audience partying like it was 1975.


All Reviews published at the LondonJazz blog during July 2011.