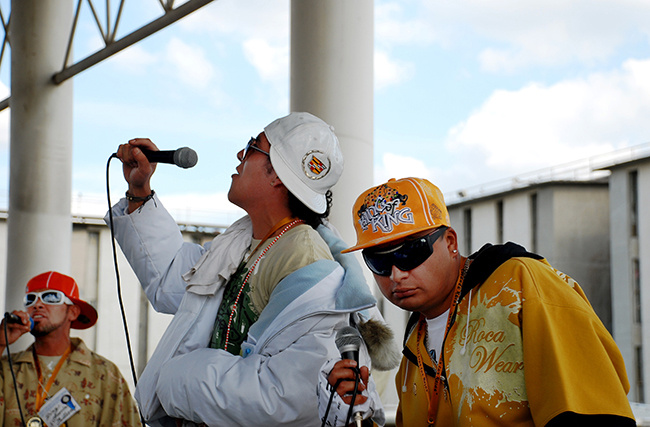 Fuera de Control, a hip-hop collective formed at the prison, celebrated victory in
Rolando Rolas
, a battle-of-the-bands involving correctional centers around the capital. An outdoor stage was set opposite a bleacher occupied by several hundred inmates, who cheered raucously as the musicians played.
The winning song, "La Nave Del Olvido," translates to "Oblivion's Vessel." It speaks of freedom, hope, spiritual peace and the desire for a better future, with words of forgiveness for enemies of the past.
"We created this so people can see there is rehabilitation in jail," says Daniel Hernández García, a.k.a. MC Feck, who has spent five years inside. "We are here for mistakes, which we don't justify, but music is freedom for us. We are free in mind, heart and soul."
Rolando Rolas was conceived in 2010 by Armando Vega-Gil, bassist in Botellita de Jerez – a cult Mexican rock band – and the author Laura Esquivel. Originally it was a mobile studio and performance facility touring deprived neighborhoods.
After holding several prison shows, Vega-Gil was inspired to start the competition. "In the streets we want to party, in the prisons we want a better life. It's the same mission," he said.
Five bands from four institutions recorded one song each, all posted as videos on a site that drew 40,000 hits and more than 7,300 votes in just over a month. Combined with a panel of expert judges, the poll awarded first prize – the chance to make a full-length album – to Fuera de Control.
"It feels like falling in love for the first time, I can't put it into words," said Antonio Silva Rodríguez, a.k.a. MC Tonz, who was sentenced to seven years for body-painting an underage girl. "We were here in jail, out of control, and started making music. There was nothing before us. We are spokesmen for all the prisoners, voices that are not heard."
"We hope the authorities take notice of how art can influence the inmates, and help them become part of society again," said his father, also named Antonio Silva Rodríguez.
Last year, a report by the Mexican human rights commission concluded that 60 percent of the country's 430 prisons are run by gangs. Overcrowding is another rampant problem, particularly in the wake of a government crackdown on narco-trafficking cartels over the last few years.
"It's a whole world inside there," said Gonzalo Castells of Charco Records, which organized the contest. "It's just like Mexico City, but a microcosm – and full of men." Stories have emerged about peacocks, fighting roosters, prostitutes and luxury cells with plasma TVs and air conditioning being found at penitentiaries around the country.
"They have a micro economy, and everyone works to fit in," explained Carlos Cruz Suazo, also of Charco. "They work for certain 'padrinos,' selling any kind of product – from food to drugs – just to get a place to sleep."
This corrupt existence is a daily reality at Santa Martha Acatitla, but Rolando Rolas brought a ray of hope to many there – even for just one afternoon. The next step, according to organizers, is to expand into a nationwide event.
And the members of Fuera de Control believe their new album will provide a platform to spread positive messages. "We're always thinking, 'my son will listen to this song, our kids will listen to it,'" said Guillermo Días García, a.k.a. New RapYazo.
"We want the youth to avoid wrong paths, to listen to our experiences, to avoid ending up in a place like this."

Published @ VICE / Noisey, 1/17/13 – click here for original.
Translated into Spanish for VICE Mexico – click here.